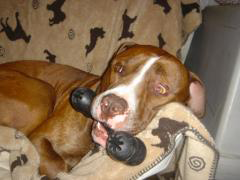 Object-guarding starts during puppyhood . Owners may fail to notice their adolescent dog becoming increasingly possessive and protective. Some may actually encourage their puppy's protective displays, thinking they are cute.
It is natural for dogs to protect their possessions. In the wild, a wolf would hardly pop next door to borrow a cup of bones. Domestic dogs quickly learn that once something is gone, it is gone. So it is not surprising to find dogs trying to keep their possessions away from people.
Bitches are more likely to guard objects than male dogs. In a domestic pack, it is fairly common to see a very low-ranking bitch successfully defend her bone from a relatively high-ranking male dog. In fact, the Bitch's First Amendment to Male Hierarchical Law is "I have it, and you don't!"
With male dogs, object-guarding is more common among middle-ranking insecure male dogs. In fact, nothing better advertises insecurity and lack of confidence than object guarding — definitely not "top dog behavior." In fact, true top dogs are usually confident in their position and are often quite willing to share a bone, toy, or food bowl with lower-ranking individuals.
If you frequently take food or toys away from your puppy and she never gets them back, your pup will learn that relinquishing an object likely means she will never see it again. Understandably, your pup might develop behaviors to keep objects away from you. She may run and hide with the object, hold on tight with her jaws, growl, snarl, and maybe snap.
Read the entire article
Like Us on Facebook
Follow on Twitter