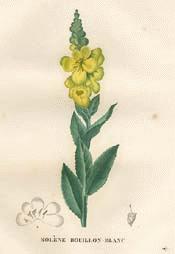 From: Botanical.com

The Mullein has very markedly demulcent, emollient and astringent properties, which render it useful in pectoral complaints and bleeding of the lungs and bowels. The whole plant seems to possess slightly sedative and narcotic properties.

It is considered of much value in phthisis and other wasting diseases, palliating the cough and staying expectoration, consumptives appearing to benefit greatly by its use, being given in the form of an infusion, 1 OZ. of dried, or the corresponding quantity of fresh leaves being boiled for 10 minutes in a pint of milk, and when strained, given warm, thrice daily, with or without sugar. The taste of the decoction is bland, mucilaginous and cordial, and forms a pleasant emollient and nutritious medicine for allaying a cough, or removing the pain and irritation of haemorrhoids. A plain infusion of 1 OZ. to a pint of boiling water can also be employed, taken in wineglassful doses frequently.

Fomentations and poultices of the leaves have been found serviceable in haemorrhoidal complaints.

Mullein is said to be of much value in diarrhea, from its combination of demulcent with astringent properties, by this combination strengthening the bowels at the same time. In diarrhcea the ordinary infusion is generally given, but when any bleeding of the bowels is present, the decoction prepared with milk is recommended.

Robin's Notes:
Highly valued as respiratory remedy, Mullein is an expectorant and has diuretic, anti-inflammatory, nervine, anti-spasmodic and astringent properties. Because it is an anti-spasmodic herb, it may also be beneficial for bladder concerns.

Read more about Mullein.
Visit Bandit's Buddies Now.


Note: The information in this blog is not meant to diagnose or prescribe for you. The ideas and information on this blog have not been endorsed or approved by the FDA. The decision to use, or not to use, any information is the sole responsibility of the reader. Opinions expressed here are those of the blog owner.